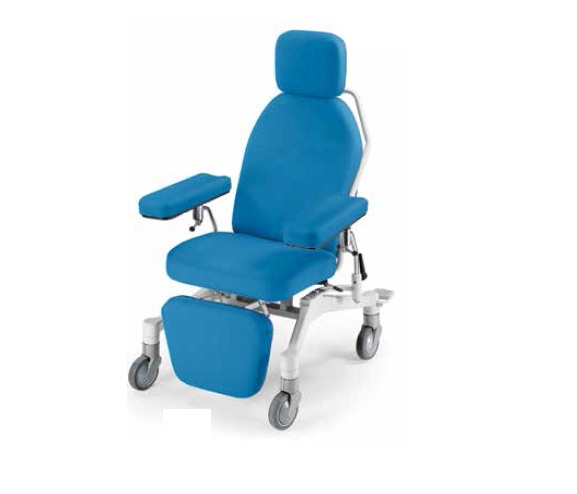 Armchair for Blood-drawing
Armchair for Blood-drawing
Product Description
Code: PG64003 – Armchair for blood-drawing on wheels with armrests
Base made of two aluminium symmetrical castings that support on the ends 4 wheels with the 125 mm diameter. The rear wheels can be individually locked. Backrest section and footrest section are controlled by a gas spring. Both sections have manual movements. The obtained movements through gas-spring command, located under the seat, are controlled by levers operated by the sitting person or the assistant. For the last there is a push handle separate from the backrest section.
The entire armchair is designed and constructed to remove easily upholstery of every section, in order to be able to wash it. The type of padding and the sizes guarantee the maximum comfort even for prolonged use. Height adjustable back rest section. The width of angle between the sitting section and the backrest section, is adjustable from 105° to a maximum 150°, while the footrest section can be adjusted from 90° up to the alignment with the seat.
Padding and upholstery are fireproof, medical device, I class, according to EU directive 93/42/cee.