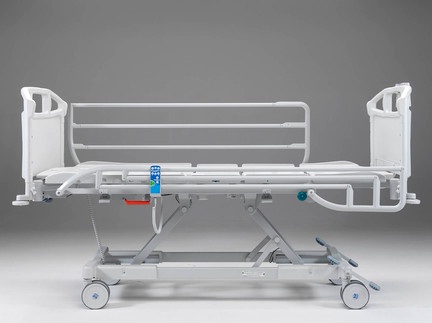 Electric Bed, 4 Section
Product Description
Code: 346730H
Electric bed, 4-section, 3 of which jointed and 1 fixed centrally.
Mattress platform made of ABS, easy to be removed and cleaned, with round edges and integrated mattress stoppers.
Base frame of welded and epoxy-coated steel pipes, with wheels provided with thermoformed ABS covers.
The bed intermediate frame supporting the mattress platform can host either swing-down or sliding-rail safety sides; on both sides of the intermediate frame there is an accessory-holder metal bar with two mobile sliding plastic hooks, each with a 3 kg capacity. Frame provided with proper housings for patient lifting pole and I.V. poles at the 4 corners.
Height adjustment performed by 2 low-voltage electric actuators (24 V) for a maximum safe lifting load of 260 kg.
As a standard, the bed is equipped with a push-button handset for the patient and the hospital staff, which can be placed on the bed ends and on the side rails, featuring the following functions:
led indicated ON mode and locked mode;
backrest adjustment;
knee break adjustment;
simultaneous adjustment of backrest and knee break;
height adjustment;
Thanks to the retroillumination of the push-buttons, the handset can be comfortably used also in the dark. The handset functions can be locked-out.
The bed can be equipped with an auxiliary rechargeable battery (accessory upon request), allowing adjustments to be performed also while moving the bed or when the power connection is not available.
During adjustment, the roto-translating backrest automatically shifts backwards to compensate patient pressure on the mattress: this allows to avoid continuous repositioning of the patient on the bed, to reduce the pressure on the plexus/pelvis areas to enhance breathing and to make the patient posture significantly more comfortable. By roto-translation the backrest shifts 11 cm backwards.
In case of emergency, the backrest can be brought down manually through a (CPR) quick release lever available on both sides of the bed; the lever can be easily located irrespective of the position of the bed, even at lowest height and both with safety sides on or off.
The footrest area is manually adjustable through teeth racks and features a mechanical safety control to avoid incorrect angles/counter rotations of the knee.
The bed ends are made of plastic material with stainless steel supporting inserts designed to host the air-mattress compressor and the tip-over monitor flap. The bed ends are embedded in dedicated receptacles with a safety lock preventing pulling-away, that can be unlocked by small levers integrated in the structure.
Epoxy powders coating finish, with antibacterial additive Biocote.
Technical data:
Mattress platform dimensions: cm 200×84
Mattress platform height: min. cm 40 max cm 80
Overall dimensions without side rails: cm 218×93
Overall dimensions with side rails on: cm 218×99 (max)
Backrest section: 0°- 70°
Knee-break section: 0°- 32°
Leg section: from – 16° to + 11°
Weight of the bed (without accessories): 100 kg.
Safe working load: 260 kg.
Protection: IPX4.
Electrical characteristics:
Line voltage: 230 V
Acceptable line fluctuation: 50/60 HZ
Line frequency: 50 HZ transformed into 24 V;
SCHÜKO plug
Maximum absorbed power: 250 VA
Isolation class: II – TYPE: B
The bed is equipped with equipotential connector.
Different voltages and plugs are available according to the standards of the country of destination.
MEDICAL DEVICE,  CLASS I, IN CONFORMITY TO THE EU DIRECTIVE 93/42/CEE, MODIFIED BY THE  DIRECTIVE 2007/47/CE. APPLIED TECHNICAL NORMES:CEI EN 60529; CEI EN 60601-1; CEI EN 60601-1-2; CEI EN 60601-1-4; UNI CEI EN ISO 14971; UNI EN 980; UNI EN 1041; UNI 6141; UNI CEI EN 60601-2-52.
Product certified by IMQ, Italian Institute for the Quality Mark, a guarantee of safety and reliability
The bed is realized according to the production process in compliance with ISO certification 9001: 2008 and ISO 13485:2012.  CND CODE V0801.