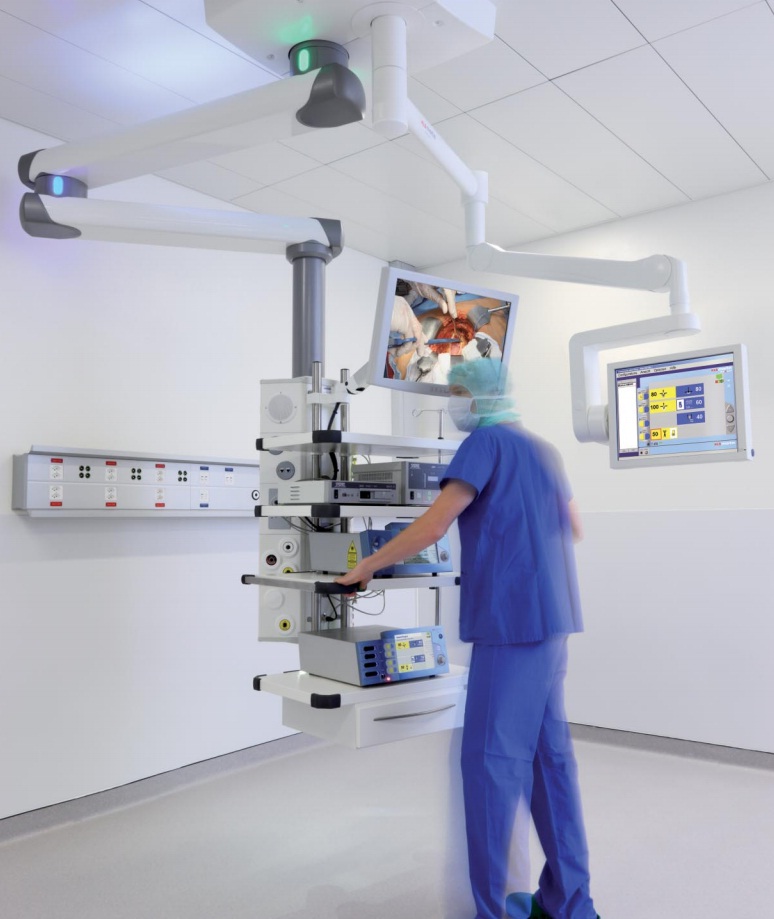 Independant® Ceiling Pendants
Product Description
Independant® Ceiling Pendants
Flexible positioning and optimal space utilization
Patient management with swiveling pendant systems
KLS Martin's Independant® ceiling-mounting supply and suspension systems provide you with all the medical gases needed for patient care, along with platforms allowing you to install your medical equipment as well. These pendant systems can be positioned flexibly for optimal utilization of the space available in operating rooms and intensive care units. Moreover, they are a compelling, hard-to-beat solution if you consider the high hygiene and safety requirements involved, particularly as the various devices can be clearly allocated and cable clutter and associated tripping hazards are automatically prevented. Most importantly, however, users benefit from the complete freedom with which all components can be moved around in the air, making your staff truly "independent" of cramped conditions and giving them plenty of room to move about. As the name suggests and as you will have guessed, this is why we called these products "Independant®".
Versions
Independant® ceiling pendants are available in different versions. A wide range of useful extras highlights and extends the great versatility of the service heads.
TFT monitor support
SwingoM6 equipment trolley
Thanks to a patented locking mechanism, this equipment trolley easily connects to the multifunction rack of the service heads. Various versions of the trolley can thus be docked to the suspension system in almost no time. An operating handle allows you to unlock and remove the trolley fast and easily after use.
MediSound System – Pleasant sound quality
The MediSound System is the first medically approved audio system for use in the operating room and intensive care unit! Simply place an iPod or other MP3 player into the docking station and control it using an infrared control. Four loudspeakers incorporated into the service head or an optional external spherical loudspeaker generate a unique sound experience. As a result, the MediSound System mutes the patients' perception of pain and takes their minds off disturbing operating noises. Apart from that, it supports the operating team with music at the workplace.