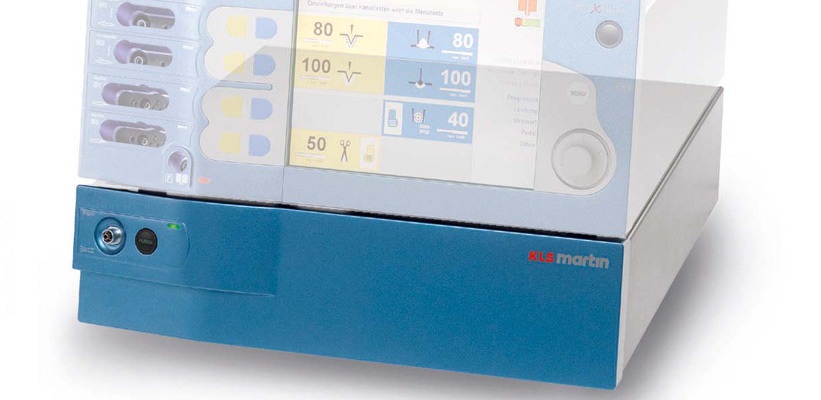 Martin Argon Beamer System (MABS)
Martin Argon Beamer System (MABS)
Product Description
Extended superficial bleeding in parenchymal tissue is a problem that is difficult to handle with classic coagulation. Therefore, argon plasma coagulation is an ideal supplement to conventional HF application methods. MABS applications are "non-contact" procedures allowing you to control even extended hemorrhages quickly and safely. At the same time, tissue carbonization is prevented to the greatest possible extent. Depending on the indication and instrument used, you can choose just the right type of current and select an argon gas flow that perfectly meets your requirements for the task at hand. This not only speeds up wound healing, but reduces the tissue perforation risk as well.
The new maxium®, the maxium® Beamer and the maxium® Cart – here you have the ultimate multifunctional trio for HF surgery. All your Beamer settings can be conveniently made on the maxium®display in the customary way.
Advantages of argon surgery
Reliable coagulation with minimal traumatization of the tissue or organ
Low blood loss and shortened operating times
Minimal vaporization at a very low penetration depth (0.5 to max. 3 mm), therefore significantly reduced perforation risk
No carbonization, therefore faster wound healing
Significantly reduces smoke development, improved view of the surgical site
Non-contact method – no tissue sticking to electrode
Less bronchial and pleural fistula formation on lung parenchyma
MABS Snare probes – "the TWO-in-ONE solution"
MABS Snare probes are combination probes, allowing you to remove polyps with subsequent argon coagulation of the site.
The great advantage of these probes: you do not need to exchange instruments for performing the coagulation in a second step. Following ablation, you just pull the snare back into the instrument to use the probe as a "normal MABS beam probe. Moreover, the probe can be conveniently used in this way for coagulating/vaporizing small polyps.
Additional coagulation following polypectomy cuts the recurrence rate.