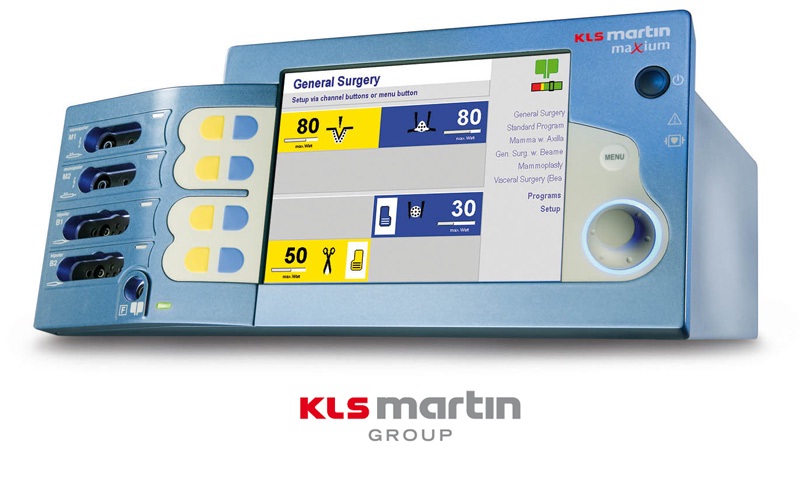 maxium®
Product Description
maxium® | The new "high-end reference system" in multifunctional HF surgery
This HF unit offers you more than 40 precisely regulated types of current for a great variety of applications in any medical field. The maxium® represents an innovative symbiosis of highly advanced HF technology and a whole range of user-friendly advantages. In particular, it is extremely fast and easy to operate.
Control takes just a turn
The multifunctional rotary switch enables you to set and adjust any HF parameter at any time with a quick movement of the hand.
The patented background lighting keeps you constantly informed on the current status of the rotary pushbutton: yellow = cutting, blue = coagulation, white = menu, OFF = inactive.
Functionality and efficiency
The maxium® impresses with a well-thought-out overall concept: the maxi-display lets you immediately recognize all of the settings made; all parameters are clearly structured and just as clearly allocated to their working channels. As regards programming and program management, more than 99 memory locations are available for user-defined settings (customized programs) that make the maxium® a highly versatile, indispensable companion in HF surgery.
The maxium® is available in three versions, depending on the socket module you select. No need for adapters at all because third-party accessories can be plugged in directly.
Excellent HF unit | Excellent accessories
They are the "multifunctional trio" of KLS Martin's latest generation of HF devices: maxium®, maxium® Beamer and maxium® Cart.
Together, the three represent the number one system for open and endoscopic argon plasma surgery. The maxium® Cart can not only accommodate the maxium®, but the maxium® Beamer as well. Besides, it offers valuable storage space for unused operating tools and accessories.
A selection of accessories has been included in a special set created to satisfy your needs. For details, please refer to our product brochure.