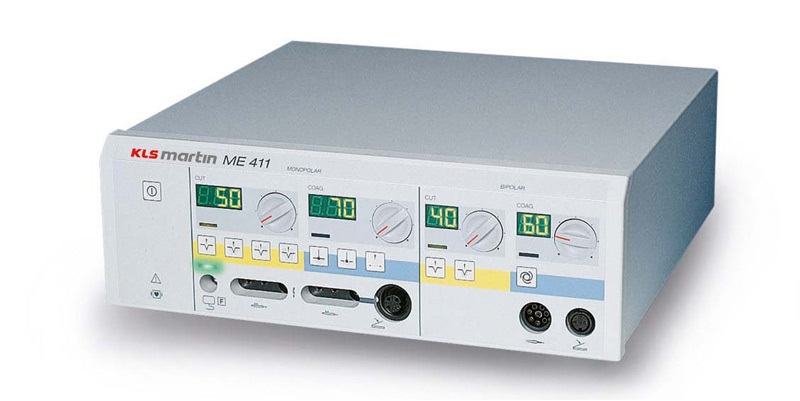 ME 411
Product Description
ME 411 | The individual solution – the right current for any task.
Boasting 11 different working currnts, the ME 411 can be used in any surgical field. In addition to its great versatility, the system offers maximum safety as well – both for users and patients. Thus, the ME 411 is well equipped to easily meet any demands made on it in modern operating rooms.
Highest safety thanks to advanced safety concept
Only since KLS Martin developed its Patient Control System (PCS) – to be used in conjunction with split neutral electrodes – is reliable NE application monitoring possible throughout operations. Two different generators working independent of each other allow you to use the monopolar and bipolar techniques simultaneously. To prevent user errors, the ME 411 features the so-called PIN Error Control System which ensures continuous and effective operator input monitoring. To make sure that the system is in perfect working order, the ME 411 automatically performs an initial self-test each time the unit is turned on.
If used in conjunction with the MB 181 Argon Beamer System (MABS), the ME MB 1 endo offers you all the possibilities afforded by argon plasma surgery.
A selection of accessories has been included in a special set created to satisfy your needs. For details, please refer to our product brochure.