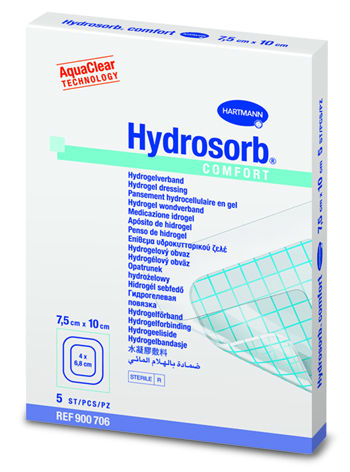 Hydrosorb® Comfort
The transparent hydrocellular gel dressing for moist wound treatment.
Product Description
Hydrocellular gel dressing with semi-permeable top layer which is impermeable to germs; transparent; provides a balanced moist wound environment due to the high water content of about 60 %; promotes granulation and epithelization; excellent biocompatibility; good padding effect; it can be removed without wound irritation.
Hydrosorb comfort has around the edges a hypoallergenic adhesive film for a safe fixation which is impermeable to germs
Uses
For moist wound treatment, especially for the treatment of clinically non-infected wounds during granulation and epithelization stage, in leg ulcers or decubitus; for the treatment of burns up to degree 2a; to promote re-epithelization of split-skin graft donor sites after bleeding has stopped; thanks to the detachable foil where you can write on, the wound size can excellently be documented.